Bird Moms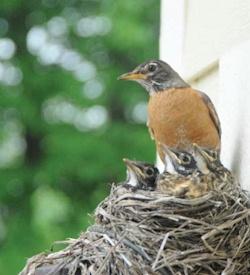 A new generation of birds will soon be entering the world and the food and housing we provide can make a significant difference on how well they will thrive and survive in our own backyards.
Recent research studies have shown that bird moms with access to bird feeders will often lay their eggs earlier than those without feeders. This is significant because earlier broods typically have better rates of survival and fledging success than later ones.
Feeders also allow breeding birds to spend less time searching for food and more time selecting better nesting sites and constructing higher quality nests. The adults will also have more time available for protecting their nest, eggs and young from predators.
When abundant, quality food is accessible to parent birds. This means that more food is provided to their chicks. Studies have shown that this extra nutrition reduces aggression among nest siblings and increases their rate of growth.
But food is not the only key in helping birds to nest successfully in your yard. A properly designed and installed nesting box can make a significant improvement in nesting success, especially during extreme periods of cold and damp weather.
Now is the time to take action for the next generation of birds in your yard. Drop by the store for all the products and expert advice you need to get started or update your offering.
How to Attract More Birds with Mealworms
The Early Stages of a Bird's Life
There are numerous ways to help your adult and baby birds throughout nesting season.
Egg Stage

Offer calcium-added foods, such as WBU Plus Blends and WBU Calcium Care™ and PB&J No-melt Suet, to help promote stronger eggs and bones for mother birds and their babies.
Use thick-walled nesting boxes (wood: at least ¾" thick; recycled plastic: at least ½" thick) to help protect birds and their eggs from extreme outside temperatures.

Nestling Stage

Continue to offer calcium-added foods to help supplement or replace the calcium females lose during egg production.
Use a predator guard over the nesting box hole to help keep critters from disturbing your nesting birds. Most of our nesting boxes have built-in predator guards.
If you pole-mount your nesting box, be sure to place a raccoon baffle just below the box to keep squirrels, raccoons, cats and other animals away.

Fledgling Stage

Protein is essential for body and feather growth, so offer high-protein foods, such as mealworms, peanuts, Jim's Birdacious® Bark Butter® and Nutty for Nuts™.
Create brush piles that provide shelter for fledgling birds.
Provide a reliable source of water so fledglings can stay hydrated and keep their young feathers in top-flight condition.