Saturday, December 5, 11:00 – 3:00
Wild Birds of Prey & Pine cone feeders
See a burrowing owl, Western screech owl, and maybe even a Great-horned owl up close. Always enjoyable for kids of all ages.
Kids can join us to make a pine cone bird feeder. We'll have all the supplies necessary, you bring the kids.
Sharing The Joy of Bird Feeding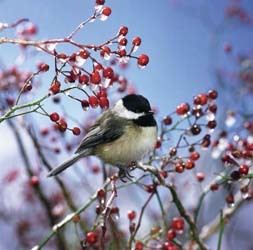 The delight of seeing so many active and energetic birds at your feeders, and knowing that you are having a positive impact on the quality of their lives, makes feeding the birds a real joy during this time of the year.
That joy is available to everyone. By providing just a few simple things, such as nutritious foods, clean water and ample shelter, the birds in your yard will quickly become a valuable asset. Not a cash asset, but an entertainment asset that rewards you with many priceless hours of happiness and fulfillment.
Winter is a great time to watch the different types of birds at your feeders. Woodpeckers are busy eating mouthfuls of suet. Juncos hurriedly scour the ground for millet. Finches squabble at the finch feeder. Jays raucously steal peanuts and nuthatches industriously horde sunflower seeds.
Bird feeding is a fun and educational hobby, and this is the season to share it with everyone.
Stop by the store this month and share a bit of the holidays with us.
We have the best seed, feeders, nature gifts and advice, and we can help you introduce this wonderful hobby to your neighbors, friends and family.
As we celebrate this special season, we invite you to bring nature home for the holidays and thank you for continuing to support our store, nature and wildlife.
We wish you and your family a wonderful and healthy holiday season.
Holiday Store Hours:
Monday, November 30 through Wednesday, December 23:
Monday – Friday: 10:00 – 6:00
Saturdays: 10:00 – 5:00
Sundays: 11:00 – 5:00
December 24: 9:00 – 3:00
December 25: CLOSED
December 26: 10:00 – 5:00
December 27: 11:00 – 5:00
December 28: 10:00 – 5:30
December 29: 10:00 – 5:30
December 30: 10:00 – 5:30
December 31: 10:00 – 2:00
January 1, 2016: CLOSED
Regular store hours resume beginning Saturday, January 2, 2016
Bring Home a Seed Character Today
Honestly, could they be more adorable? Available exclusively at Wild Birds Unlimited, we offer several fun seed characters, including Hoot the Owl, Rascal the Raccoon and Buttons the Snowman. Each is a mix of seeds, nuts and fruit and a wonderful addition to any yard.
These characters can help you attract many of your favorite birds, including chickadees, woodpeckers and goldfinches.
We have SNOW in Southern California!
Come in to see our great "snow" cards and buy a tube of instant snow to make a great stocking stuffer. We'll show you how easy it is make the snow (simply add water). You can have a White Christmas!